I am really making progress working through all the accumulated "stuff" (a.k.a - junk), in my workshop. Unless I really dislike something, and don't have an ounce of inspiration to put into it, my goal is to fix up or recreate with everything in that room. You can actually walk through the room without risking life and limb now, but there is still a lot left to work on.
I decided to work on a few old sewing machine cases I've had for a long time.
These cases are wonderful, because they are made of wood and have a lot of storage inside them,
so even though they aren't needed to carry a sewing machine anymore, they still are really useful.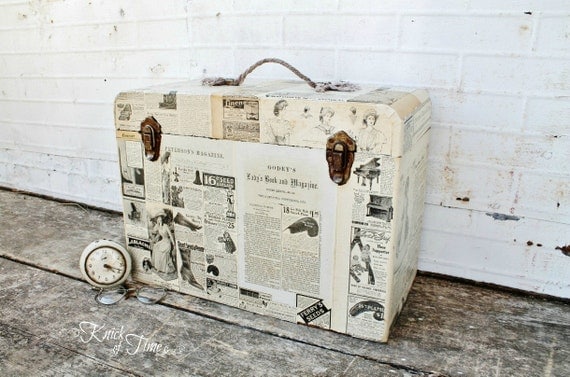 Originally, I'd hoped to pull the faux leather brown fabric off this case, and stain the wood underneath, but when that proved too much work, I went to my old standby - decoupage. I used a bunch of advertisements from the early 1900's to cover it. It was missing the original leather handle, so I replaced it with some tea-dyed cording.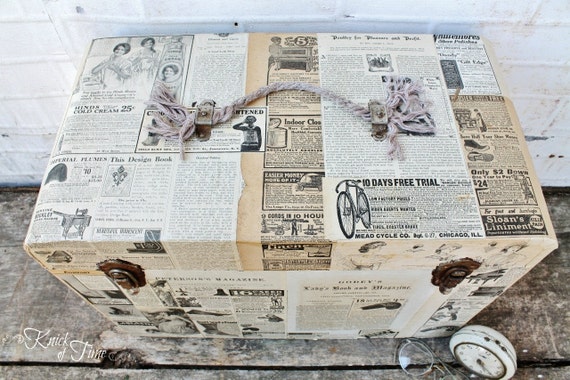 I also had another similar case, but I decided to paint it instead, and stencil the No. 1 in the corner. It was also missing the handle, so I replaced it with cording also.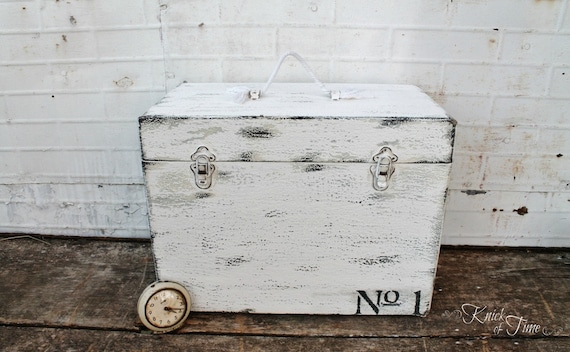 Staying on a sewing theme, I had fabric leftover from the bench I recovered (which I'll show you soon) and I knew if I folded up that fabric and put it away somewhere, it would sit there unused for at least a year. I decided I was going to find some way to use it up and not bother added it to a fabric stash. This resulted in staying up until 3 am, to come up with an idea and make it, but now I have this bag, that will either end up in our nearly remodeled laundry room, or in our not-yet-started bedroom.
The thing I like about ticking is the straight lines, meaning I don't have to measure and be picky...I can just cut and sew on the lines. I'm lazy like that. I used some Artist Transfer Paper (TAP) to transfer this image that I shared with you
HERE
, to a scrap of canvas, and stitched it the front, then added handles to the front and back.
The only problem is, now I want to buy more ticking to make a few more things, which will probably result in leftover scraps, resulting in another sleepless night trying to use up the scraps. Sew much for that!
Blessings,