It's not often that I like to air my dirty laundry with you all, but for the sake of honesty, I'm going to. Not only am I going to talk about this incredibly ugly laundry hamper, but it gets worse.
I spotted this ugly thing in my workshop and realized I should either do something with it, or donate it, and since we're remodeling the laundry room, I thought maybe I could make it look better and actually use it, rather than just keep allowing it to take up space in my workshop.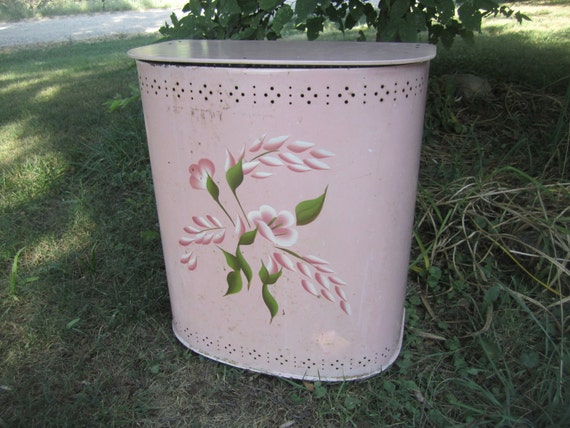 I brought it inside and painted it with some white, homemade chalk paint. Now that the offensive, pink tole painting was gone, it already looked 100% better, but I felt it needed a little something.
I decided to use an antique graphic for an Empire clothes wringer that I shared with you a long time ago, (
here
). I would love to have used my new Silhouette to make a stencil I could paint over, but there was too much detail in the wringer image, so I knew it would be impossible to get a decent design cut on vinyl.
Instead, I ordered a print from Staples (reversed) and decided to try transferring the image instead.
I'd read tutorials about using Modge Podge to transfer an image to wood, but never tried it myself, so I thought this would be a good opportunity, but I couldn't find my bottle of Modge Podge. I've used Elmer's for most of my decoupage projects, so I figured it might work the same way...at least I hoped it would.
Some of you are probably screaming at this point - "Don't do it, Angie, don't do it!"
Because you and I both know, (but I wasn't thinking), that you can't wipe chalk paint with a wet rag if it hasn't been sealed...it just wipes off the paint, but as I said, I wasn't thinking. Stay with me - there's even more dirty laundry I'll spill about this project.
I trimmed around the image and painted a coat of glue over it with a foam brush, then smoothed it in place on the laundry hamper, using a bank card to get the glue bubbles out from under it. I let it dry for about 4 hours and was excited to see how the results would turn out. I dampened the paper and started lightly rubbing it away. I was so happy to see that it was working - the image was coming off the paper and sticking to my laundry hamper!
Yes, the paint was coming off around the edges, but I figured I could touch that up after getting all the paper off. Yes, some of the image was coming off too, but I figured I could touch that up with a little black paint, if needed, but I was okay with some of it coming off.
What I wasn't okay with, is what I realized next. Wanna take a guess?
Yep...I put the image on the hamper upside-down!
So, my hamper is right back to ugly again. We do need a laundry hamper, but I really don't feel like starting all over again on this project.
If I get motivated to fix this epic failure, I'll let you know. If I fail again, don't expect me to air any more dirty laundry with you. I do have a little pride.