Welcome back to Knick of Time Tuesday!
The linky tool is fixed now, so come share with us.
I'm really feeling the "knick of time", as I turned 46 years old yesterday!
I've got the creaking knees to show for it, but I thank God for every day he's given me.
You are welcome to link to your shop,
as long as they are vintage items (over 20 years).
Have you added my button to your post or sidebar?
Please do so before you link up.
You've gotta have the link be featured.
If you plan to pin any of these images to Pinterest,
PLEASE do so from the original posters blog or shop - not from here.
Here are a few great features shared at last week's party!
Liz @ Quirky Vistas
bid a heartwarming farewell to incandescent bulbs.
Does anyone else feel the need to stockpile them before they are gone? Sigh...
I'm sorry, but aside from a lighting standpoint, CFL's and LED's are just UGLY in comparison!
Susan @ Must Love Junk
shared the new look in her office.
She toned down the red walls and went with a pretty grayish green.
Sharlotte @ Sharlotte's Reflections
converted a gorgeous antique Singer sewing machine
into a lamp, and added her handmade shade.
Daena @ Bad Rabbit Vintage
gave an old metal card catalog a lovely facelift!
Dawn @ Creative Cain Cabin
gave her quilt cabinet a beautiful makeover!
Tina @ Mission Jewels
has this fabulous little crate available in her Etsy shop.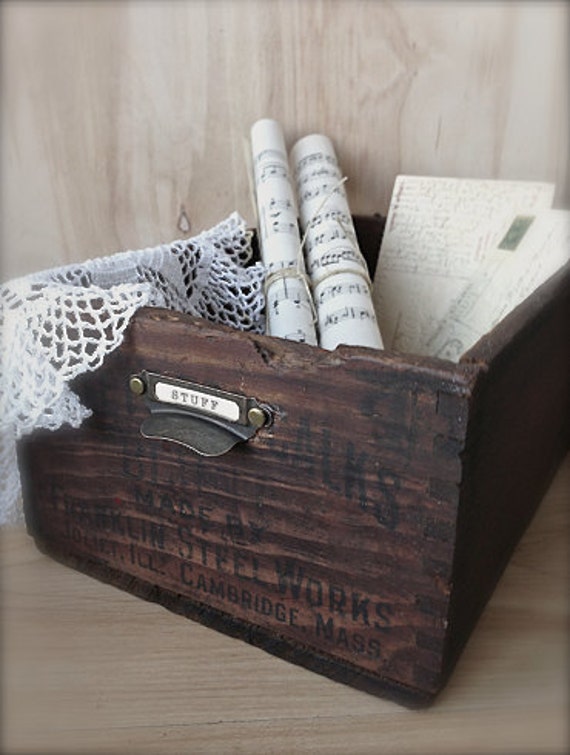 Today's Sponsor!
Gorgeous Leather Cuff Bracelet & Fleur de Lis Pendant Necklace
You still have a few more days to enter to win a special Miner's Tag Necklace from Bel Monili.
Now, let's see YOUR Vintage Style!