I spend a lot of time in the bathroom.
Okay, I know that's a weird statement, but let me explain.
I'm not a "relaxer" by nature. I multitask ALL THE TIME.
So, when I feel a little need for some relaxation, I head for my bathtub.
I'm able to relax
while
multitasking
(most of my posts are written while I'm "relaxing").
I don't pamper myself often, but one thing that makes my bath time
special is handmade soap.
I love the fresh scents, I love the organic colors, and I love the yesteryear charm in a humble bar of a handmade soap. I'm hooked on these little blocks of bliss.
So, today I'm thrilled to introduce you to the newest Knick of Time sponsor, CJ from
Sweet Harvest Farms
, handmade soap artist.
At the end of the post, is a special deal for Knick of Time readers, with a giveaway as well!
C.J., of Sweet Harvest Farms, has used her medical knowledge to formulate a recipe that consists of natural, soothing and luxurious ingredients to create a unique luxurious soap. This wonderful soap not only leaves you squeaky clean but also gives you soft, supple and moisturized skin. Commercial brands often siphon off the glycerin to sell as a by-product. In doing so their soap can leave you feeling dry and itchy. Our Cold Processed Soap making method retains
100% of the natural glycerin
which is a natural by-product of the this method. It is essential to hydrate your skin. Our homemade soaps
DO NOT
contain chemical preservatives of any kind and do not become tacky, slimy or melt quickly and you don't have to worry about leaving them in your shower! Our soap is made in small batches, from scratch, with each bar being individually cut and hand-wrapped to insure quality control. Natural colorants are used in our wonderful soaps to bring out the beauty of each bar and organic and natural herbs are added to some of the recipes. Refined Shea Butter, Olive Oil, Castor Oil, Jojoba Oil, Flaxseed Oil, Palm Oil (sustainable) and Coconut oil are just a
few
of the rich oils used to create this luxurious line of soap.
Click on images to visit the shop.
Lavender Bud
- like strolling through a lavender field!
Secret Garden
- fresh, crisp smell of walking through a spring garden.
Tiffany's
- fresh, clean and sophisticated!
Amore'
- subtle, refreshing and sexy - and great for shaving!
Americana
(isn't it beautiful!) - citrusy, spicy and mildly floral.
She also carries a line of seasonal soaps, including Candy Cane, We Three Kings (yes, it has frankincense in it!) and Christmas Thyme.
And there are other products like body lotion and lip balm, as well.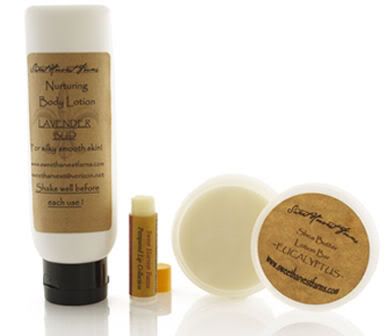 In addition to soaps, she makes
Aroma Potpourri Beads
, like this Sea Mist scent. It's a blend of beads, polished bits of glass, sea shells and vintage buttons, drenched in an aroma that takes you back to your childhood at the beach.
She also carries handmade
Laundry Soap
that gets your clothes brighter than store-bought detergent, without harmful chemicals or detergents.
The purity and moisturizing properties of Sweet Harvest Farms Soap make it ideal for the most sensitive of skins (including tiny-tots!) and are handmade right here in America! Fragrances added are made with essential or skin safe fragrance oils. Each hand-cut bar weighs approximately
6 oz. or more
and each bar
WILL LAST 4-6 WEEKS!!
You will be more than pleased with the condition of your skin after just one use of a Sweet Harvest Farms bar!
Her website is a visual feast as well; filled with lovely old photos and antiques.
For the month of Jan., when you order $50.00 or more from Sweet Harvest Farm, you will receive 10 sample bars of our most popular scents absolutely

FREE

! These bars are a good size and measure approximately 4 X ¼ X 2 and will last for weeks! Use them yourself or give them to family and friends!
All those that order during Jan. will also be entered into a
$50.00 Gift Basket Give Away
to take place on Jan. 31
st
! This will be in
addition
to the Gift Basket given to one lucky person that signs up to receive my monthly Newsletter which is held the 1
st
of every month! Just write
"Knick of Time"
in the special comment/instructions box at checkout to receive your FREE samples.
CLICK HERE TO MAKE YOUR SELECTIONS!
You can also follow the
Sweet Harvest Farms blog
and find it on
Pinterest
&
Facebook
. Don't forget to sign up for her newsletter, to get entered into the Gift Basket giveaway! Send an email to
sweetharvestfarms@verizon.net
and write "Sign Me Up!" in the subject.
Blessings,