Welcome back to the 56th
Knick of Time Tuesday!

Before we get started, I have a favor to ask.
You may have noticed that I tweaked the look of my blog last week.
I moved my sidebar and changed the width of my blog,
because I got feedback that it was too wide to fit on a regular monitor.
Now that I've changed it, I again got feedback that now
it's too small when people view it on IPads.
Could you take a moment to let me know if it looks okay
on YOUR monitor, or IPad? I'd really appreciate it!
Just a reminder that I now allow links to shops,
as long as the item is a VINTAGE ITEM,
so feel free to share your Etsy shop listings, etc.
Just remember, the items MUST be vintage.
This is the place to share anything
old, treasured, passed-down or tattered.
Share anything vintage (or newly created to look that way!)
Please take a moment to
add the party button to your blog and help spread the word.
There were so many great links share at the party last
week, that I had a really hard time selecting just a few,
but here are some that caught my eye.
Dixie @ Frenchlique
Liz @ Quirky Vistas
Korrie @ Red Hen Home
Joy @ A Vintage Green
liked the Itty Bitty Banners I
shared last week and created one of her own for a fall wreath.
Maggie @ Little Miss Maggie
Feel free to grab this button if I featured you today!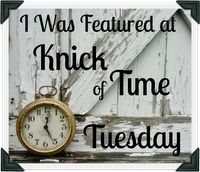 You'll also be pinned on the
Please, do the following before linking up:
1. Are you following Knick of Time ?
If not, I hope you'll do so now - thanks!
2. Please only link up your
vintage-style
treasures.
No food, giveaways, link parties or posts that aren't vintage-style.
Those links will be deleted.
3. Post a link back within your post, so others can join the party.
Only those who link back will be featured.
Looking forward to seeing your vintage style!
Angie
Please Visit Today's Sponsor!
You WILL love CeCe Caldwell paint, I promise!!!