Knick of Time Tuesday is 1 year old today!
Thank you to every one of you who come by
to visit and share at the party each week -
I really appreciate it and look forward to
the next year of hosting the party.
I've been redesigning some images for my blog,
so I have a new party button.
I would SO appreciate it if you'd take a moment to
add the party button to your blog and help spread the word.
Thank You!

If you haven't yet entered the giveaway to win a set of 5
storage containers from Packaways, you can do so HERE.
The entries are very low at this point, and there will be
3 Winners,
so you could be the winner!!!
I think these are fabulous containers and am finding
them very useful!!
You also have until midnight tonight to enter the giveaway from
Goose Creek Candle Company, so you better hustle
HERE
to enter!
Now, let's take a look at some features from
last week's party!
Audrey @ Timeless Treasures
gave her mantel an autumn makeover with a Farmers Market theme
and lots of great vintage pieces.
to put price tags on her vintage fryer baskets.
Glad you enjoyed them, Audrey!
Jennifer @ Thimbles, Bobbins, Paper and Ink
liked the book stack post I shared recently and decided
to start stacking some of her own. She made stacks of antique school books,
tied together with lace and lavender.
Betsy @ My Salvaged Treasures
picked up 278 of these wonderful letters at a yard sale - SCORE!
So many great possibilities of ways to use them!
I love this old window box that
Debra @ Common Ground
is now using as her table centerpiece.
It looks beautiful filled with with the muted autumn colors.
Feel free to grab this button if I featured you today!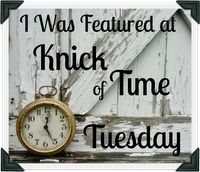 You'll also be pinned on the
Please, do the following before linking up:
1. Are you following Knick of Time ?
If not, I hope you'll do so now - thanks!
2. Please only link up your
vintage-style
treasures.
No food, giveaways, link parties or sales links or posts that aren't vintage-style.
Those links will be deleted.
3. Post a link back within your post, so others can join the party.
Only those who link back will be featured.
Looking forward to seeing your vintage style!
Angie