Wow, I can't believe that next week's party will mark
one year I've been hosting Knick of Time Tuesday!
Although I love the image I've used for the last year,
there's a possibility I may change it, just because
I'd like to coordinate the images on my blog a little better.
So, you may or may not see a new image for the party
next week...depending on if I get my act together or not!
If you haven't entered my latest giveaway from
Goose Creek Candle Co., click
HERE
to do so.
They have absolutely wonderful candles and you could win one!
Let's take a look at some features from last week.
I am so thrilled to feature
Julia @ Vintage with Laces
,
because she used a graphic I posted for Antique Graphic Wednesday
to create this absolutely beautiful case to hold sewing needles!
You have no idea how much joy it gives me
to see graphics I've shared get used so creatively.
Here's a close-up...
You can find the original graphic
HERE
.
I've shared earlier this week a sign I made with CeCe Caldwell paints that
Shelly @ Shizzle Designs
sent to me, but take a look at the beauty she creates with it!
It's a beautiful, old stereo cabinet that looks stunning now.
Teresa @ Magazine Your Home
created this awesome light over her kitchen table
out of a few buckets, some metal piping and faucets.
I love it - very unique!
I'm a sucker for old door hardware, so I
love the door that
Ashley @ First Home Dreams
shared.
She repaired and restored this antique beauty herself.
I'm impressed!
Feel free to grab this button if I featured you today!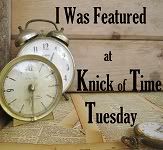 You'll also be pinned on the
Please, do the following before linking up:
1. Are you following Knick of Time ?
If not, I hope you'll do so now - thanks!
2. Please only link up your
vintage-style
treasures.
No food, giveaways, link parties or sales links or posts that aren't vintage-style.
Those links will be deleted.
3. Post a link back within your post, so others can join the party.
Only those who link back will be featured.
Okay...Let's see your Vintage Style!