Thanks for dropping in for the 50th
I hope everyone had a wonderful Labor Day.
Now that I've been forced to accept the fact
that summer is over and school has started,
I'm getting excited about fall - especially since
it's been horribly humid here all day.
Here's a little collage of some items you can find
in
my shop
that would be perfect included in autumn decor.
If you loved my happy, little toolbox filled with mums,
you'll notice I have another orange Waterloo toolbox
very similar to him (without the smiley face!)
Through Tuesday at midnight, any of these items
will be 20% off to the first person who asks for them!
You can leave me a comment here or message me through
Etsy
.
No let's take a look at some features from last week's party.
Mimi @ Blue Roof Cabin
put the finishing touch on her kitchen island created
from an old door - well done!
Joy @ A Vintage Green
Found this unique antique at a yard sale.
It's an old movie poster in the original frame - what a great find!
saw inner beauty beneath an outdated planter and with some fresh
paint has a new lovely planter!
has been busy creating some vintage style goodies for her shop.
Feel free to grab this button if I featured you today!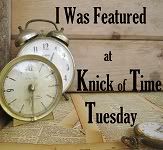 You'll also be pinned on the
Please, do the following before linking up:
1. Are you following Knick of Time ?
If not, I hope you'll do so now - thanks!
2. Please only link up your
vintage-style
treasures.
No food, giveaways, link parties or sales links or posts that aren't vintage-style.
Those links will be deleted.
3. Post a link back within your post, so others can join the party.
Only those who link back will be featured.
Okay...Let's see your Vintage Style!