Welcome back to the 48th
Before we start this week's party, the winner of the
Let's Talk Chalk $30 shop credit is...
Congratulations Penny! Click on my typewriter on my sidebar to give me your contact info.
Check out these features from last week's party.
Janet @ The Decorating Diaries
had the incredible good fortunate of going picking
when a 100 year old electrical business closed and brought
home some absolutely wonderful old drawers, price tags and more.
Be sure to visit to see all the great finds she brought home.
Geneva @ My Heart's Song
has a beautiful vintage style guest bathroom
with such cozy, wonderful touches, like soaps in a vintage silver pedestal bowl
and a towel hook made from an old silver tray.
Be sure to visit her to see the rest!
Bliss @ Bliss Ranch
experimented with making her own laundry soap,
but what really caught my eye were her pretty, old clothespins
in the beautiful gravy boat. This photo looks like a frameable print!
Rani @ La Maison Jolie
created some beautiful coasters from antique sheet music!
Great idea and music for the eyes!
Rachel @ Olde Windmill Farm
created this gorgeous medicine cabinet door to look like an apothecary cabinet.
The parts came from an antique cabinet that she converted into her bathroom vanity.
So creative and unique - LOVE it!
Feel free to grab this button if I featured you today!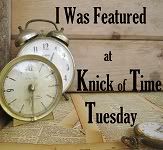 You'll also be pinned on the
Please, do the following before linking up:
1. Follow Knick of Time
2. Please only link up your
vintage-style
treasures.
No food, giveaways, link parties or sales links or posts that aren't vintage-style.
Those links will be deleted.
3. Post a link back within your post, so others can join the party.
Only those who link back will be featured.
Prepare to be Inspired!
Okay...Let's see your Vintage Style!