Welcome back to the 46th
Check out these features from last week's party.
Jean @ Backyard Bungalow
shared this absolutely wonderfully chippy little dresser.
I LOVE it!
We are SO close to having our kitchen remodel finished,
but the last few details always seem to take the longest.
This gorgeous kitchen remodel by
Laura @ The Ironstone Nest
will motivate me to pester my husband to death until it's done!
Check out the before and after:
Now look...amazing, right?
I love so many of the details, but one of my favorites is this
chalkboard wall and the wonderful saying on it.
Doni @ Faith, Grace, Crafts
is a vintage sewing collector extraordinaire and her photography
always makes me exhale and smile!
Do yourself a favor and spend some time on her blog,
but plan to be there awhile!
Penny @ Penny's Vintage Home
shared all the gorgeous ways she uses frames in her home.
Make sure to visit - she's got many beautiful ideas
you may not have thought of yet.
Julie @ Follow Your Heart Woodworking
made this fabulous clock face table.
I WANT IT! :0)
Feel free to grab this button if I featured you today!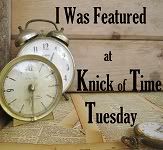 You'll also be pinned on the
Please, do the following before linking up:
1. Follow Knick of Time
2. Please only link up your
vintage-style
treasures.
No food, giveaways, link parties or sales links or posts that aren't vintage-style.
Those links will be deleted.
3. Post a link back within your post, so others can join the party.
Only those who link back will be featured.
Prepare to be Inspired!
Okay...Let's see your Vintage Style!