I'll be honest...today's "Get the Look" project was a failure.
I spotted this numbered vase from Terrain a few months ago
when they had them on sale for $19 and thought it
was cute and looked like a fairly east project to duplicate.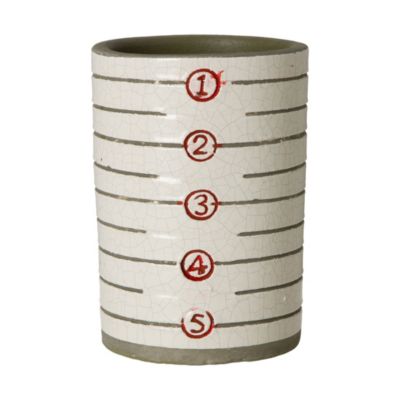 I thought it was going to be SO easy, because while looking
for something in our garage, I found
this numbered glass beaker and realized all I had to do was paint it
white, then paint the lines and numbers with black and red. So easy, right?
Painting it white...no problem.
Painting the lines...that's another story!
I thought using a black Sharpie marker would be the easiest way
to color the lines, but I must have the shakiest hand in the world, because
I kept getting the marker everywhere on the beaker EXCEPT the lines.
After repainting it white twice, I finally gave up.
But you know what? I think I actually prefer it solid white.
So, I guess it's not a total failure after all,
and that beaker would probably still be sitting in my
garage had I not attempted the project.
Now I have a pretty jar to hold my scissors and pens.
The good news for you?
If you like the Terrain version, they have now slashed the price to $4.95!
It's almost too cheap to even bother trying to copy.