You guys outdid yourselves at last week's party!
I want to thank each and every one of you who linked up and co-hosted with me to make this blog hop for my "Blogiversary" celebration so much fun!
shared a tutorial to tint canning jars.
Not only do they look great, but they are SUPER easy as well!
shared her gorgeous garden full of galvanized goodness
(say that 3x fast!). I'm a horrible gardener, so I really
enjoy seeing how beautiful her plants look in these wonderful, old containers.
organized loose papers with this fabulous time card holder.
I've been looking for one of these!
had an amazing day of thrifting and look what she brought home!
shared her unique 4th of July vignette on her sofa table.
If you look closely, you'll spot these beauties...
(she bought them from me!)
It's no nice to see my "babies" go to such a good home!
I had 3 of these gorgeous 1894 Cyclopaedias - Honey got two and I kept one...
so I have the sibling to her set. :0)
had me swooning over her gorgeous porch all decked out, vintage-style for the 4th of July.
is a brand new blogger and his first post is about
his amazing WWII Garand with bayonette and accessories.
What a unique piece of history to own!
Drop in and say hello to welcome him to Blogland!
had a busy weekend full of lots of creations, including these rustic-looking boxes fashioned from old wood and nails and lovely beautiful painted bottles.
Pop over and see the tiny baby visitors she had drop in at her house!
I'll give you a hint, they have 4 legs, beady little eyes and are fast!
is a gifted artist who creates the most beautiful paintings, including this
"Cotton Pickers" gallery wrapped canvas - just love it!
combined two well-aged, beautiful crates to make a unique wall shelf.
Great idea!
created this wonderful sign from leftover floor boards
with the name she'll take as her own in a few short months when she gets married.
Congratulations, Becca and I love your sign!
See what I mean - it was an amazing party with amazing people sharing their amazing "stuff"!
Feel free to grab this button if I featured you today!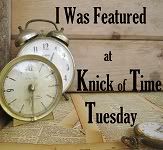 You'll also be pinned on the
Please, do the following before linking up:
1. Follow Knick of Time
2. Please only link up your
vintage-style
treasures.
No food, giveaways, link parties or sales links or posts that aren't vintage-style.
Those links will be deleted.
3. Post a link back within your post, so others can join the party.
Only those who link back will be featured.
Prepare to be Inspired!
Okay...Let's see your Vintage Style!
(I've left this party as a blog hop, so feel free to add the code to your blog if you'd like.)