I've been working my fanny off today and I'll be honest -
I stink like a pig! Not something I'd normally admit, but I
think the heat fried my brain today. I spent the whole day
in my office - taking photos, shipping orders, and creating things.
When I use the term "office", I'm being really generous,
because my office is an outbuilding with plants growing through the walls
and no air conditioning or even a box fan (definitely need to get one!)
I was quite the vision when my husband got home from work.
While I'm soaking the grunge and grime off myself, you can take a look
at some features from last week that look (and I'm sure smell)
a whole lot better than I do!
I love this chair that
Shelly @ Shizzle Design
revived as a plant stand.
She does a beautiful job of accenting the natural age of her furniture pieces!
Gorgeous!
Mallory @ Vintage Finds
turned a beautiful old mantle...
into a stunning old mantle with some white paint and love.
I'm having Peony envy because of
Joy @ A Vintage Green
!
We have a large bed full of peonies at our new house,
but although the all had buds on them...they didn't bloom!
Not only are Joy's beautiful, but her flowers come from stock
from her parents home and she's had them in her garden for about 20 years!
I absolutely love this seat created from a pallet by
to swing on under a shady tree!
Here's a few vintage goodies I've added to
my shop
this week:
Feel free to grab this button if I featured you today!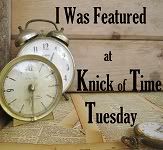 You'll also be pinned on the
Knick of Time Tuesday Pinterest board.
By the way, tomorrow is your last chance to enter
the Hello Violeta Giveaway I'm hosting!
The winner will receive this lovely set that includes
a mini wallet and drawstring gift bag made
from linen and vintage lace. Don't miss your chance to win!
Enter
HERE
.
Please, do the following before linking up:
1. Follow Knick of Time
2. Please only link up your
vintage-style
treasures.
No food, giveaways, link parties or sales links or posts that aren't vintage-style.
Those links will be deleted.
3. Post a link back within your post, so others can join the party.
Only those who link back will be featured.
Prepare to be Inspired!
Angie
Okay...Let's see your Vintage Style!