Welcome back to
My youngest son and I are catching
a train this evening, bound for the Land of Enchantment
(a.k.a. New Mexico). My mom had knee surgery,
so I'm going to go hang out with her at the rehab. center,
spend some time with my sister and her family and my dad
and my son will get in as much play time with his cousins as possible.
It's been years since I road the train, and I'm looking
forward to taking the scenic route and spending
that one-on-one time with my youngest.
My daughter's been left in charge of keeping the remaining
3 men in the house in line and keeping the house in order.
I hope I come home and they are all still alive!
I've got several posts lined up for the next week,
so you won't even know I'm gone!
I've been running like a crazy person trying to
pack and get all my orders shipped off before I leave,
so I only have 3 features for you this week, but they are good ones!
Melody @ My Passion for Decor
gave an old highboy dresser a beautiful makeover.
Linsey @ The Farmhouse Porch
showed us the wonderfully aged horse weather vane
she recently found. Make sure to go see the
rest of her dining room - it's beautiful!!
Liz @ Image Remix
turned an uninspiring little chest of drawers
into a fabulous & quirky outdoor plant stand with
some fun faucets as the drawer pulls.
Just look at the before and after! Love it!
Feel free to grab this button if I featured you today!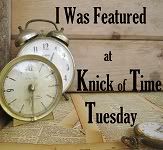 You'll also be pinned on the
Please, do the following before linking up:
1. Follow Knick of Time
2. Please only link up your
vintage-style
treasures.
No food, giveaways, link parties or sales links or posts that aren't vintage-style.
Those links will be deleted.
3. Post a link back within your post, so others can join the party.
Only those who link back will be featured.
Prepare to be Inspired!
Angie
Okay...Let's see your Vintage Style!