I bought an antique sewing table months and months ago.
The top was badly damaged, and one of the sides that
held 3 wooden drawers was broken, but the machine
was a gorgeous old Domestic and the
cast iron base is beautiful.
I finally decided it was time to work on it,
so I took off the drawers on both sides
and started painting what was left of the
top and found another piece of salvaged wood
to add to the empty space left by removing the machine.
While waiting for the paint to dry enough
to add a second coat, I started looking at
the wood pieces that I had removed
and realized they were really lovely
and would make a great....something.
Once an idea strikes me in the night,
I can't sleep until I've tried it,
so I got sidetracked from working on the sewing
table and this is the "something" I came up with.
On the backside, I used some scrapbook photo corners,
and inserted some card stock paper to use as a background.
I've got quite a bit of vintage sewing goods,
so this was a nice way to be able to
make a display out of a few them.
I added some old wooden bobbins to the bottom,
so lightweight things can be hung from it.
On top, a little metal bobbin, and it was done.
The old wood was a perfect compliment
to the vintage sewing items.
Reminder!
Have you entered to win this
gorgeous necklace from Sassy Cass Jems?
The giveaway ends tomorrow, so you better hustle!
You could win - yep, you could!
Enter
HERE.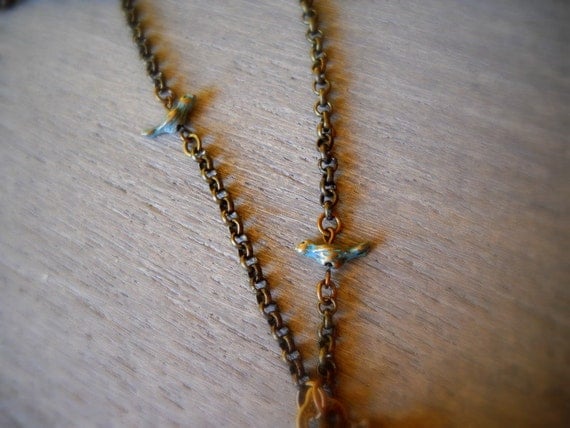 Blessings,