Is it insanely beautiful where you are today?
We hit the high 80's today. It is April and not May, right?
The sun is shining, the birds are singing and
I'm loving wearing shorts and sandals again.
Okay, are you ready to get your weekly dose of vintage eye candy?
Let's look at some of the fabulous feature's from last week's party!
My sweet blogger friend, Doni @ Faith, Grace, Crafts shared
two of her passions - the violin & old lace.
She ordered some antique sheet music from me
last week and knowing how much she loves the violin,
I was thrilled to send her this page with her set.
Fabby's Living shared her stunning antique buffet to hold her
equally impressive collection of serving pieces.
from a revived frame and a skeleton key embellishment.
Great way to make inexpensive frames look fabulous!
I love, love, love old buttons, so this revived shelf
by
Analisa @ Ruth's Farm & Furniture
grabbed my attention.
You can stick an old button on nearly anything and
it will look 100% more charming!
Feel free to grab this button if I featured you today!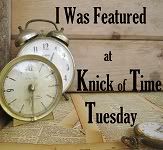 You'll also be pinned on the
Please, do the
following before linking up:
1. Follow Knick of Time
2. Please only link up your
vintage-style
treasures.
No food, giveaways, link parties or sales links or items that aren't vintage-style.
Those links will be deleted.
3. Post a link back within your post,
so others can join the party.
Only those who link back will be featured.
Prepare to be Inspired!