It's our first spring in our new home, and I was thrilled to see how many spring bulbs are coming in that the former owner planted. There are lots of daffodils and some bulbs that haven't bloomed yet, so I'm not sure what they are. I've only seen 1 hyacinth plant, but the plant is in an area where it can't be noticed or appreciated much, so I decided to cut the stalk and bring it indoors where we could enjoy the blooms. In just a few minutes, the fragrance was filling the room.
I've had this wooden tote for several months and finally decided it was time to fix it up.
I wanted it to be an all-season tote, so I took a sander to it and removed most of the snowmen on both ends.
I painted it with the same white paint that we are using in our kitchen, and hand sanded it so some of the wood grain shows through.
It needed a little something, so I attached an old, super-tarnished knife to the front.
Then I filled it up with a few of my aged, old white platters, a gravy boat with an old postcard & some tarnished silverware tucked inside, an antique book, and a mason jar filled with freshly-picked blooms. It's now in my shop at
Knick of Time
on Etsy. Until someone else claims it, I'll enjoy it in my kitchen.
Even though my camera is a little point and shoot, I still have a lot of fun seeing what kind of close-ups I can get with it.
Aren't the blooms gorgeous?
I love that we can enjoy the view through my courthouse window that we installed between the two rooms.
What's bloomin' at your house?
Don't forget that today is the last day to link up to
That's the Ticket Blog Hop Link Party
and get in on the prize giveaway packages being offered! You may be featured on one of 4 blogs and you may be a winner of one of 4 prize packages!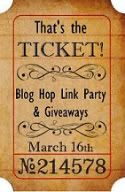 Shop Knick of Time - 10% Discount Code 10SPECIAL
You Can Often Find Me at These Parties: