Welcome to the 26th Knick of Time Tuesday party.
I'm coming to you today from Springfield, MO,
where the 2012 National Christian
Homeschool Basketball Championship is being held,
which my son's team is participating in.
It's a HUGE event, that draws homeschoolers
from all over the nation. We're a small town team
facing some great big-city teams, so wish us luck!
In between games, I plan to hit as many
thrift and antique stores as I can.
If I'm lucky, I'll get to connect with
Debra from Common Ground
when I visit Relics Antique Mall.
I'm looking forward to meeting her, seeing her booth and checking out Missouri's Largest Antique Mall.
A special thanks to each of you who linked up for the
That's the Ticket Blog Hop Link Party
!
The party is still going strong and will be open all week,
so this is the place to show your creativity.
Don't forget to visit each of my co-hosts and enter
the fantastic giveaways each is offering and follow their blogs as well.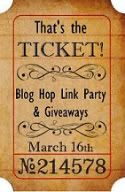 Now some features from last week's
Knick of Time Tuesday party.
I've wanted to try my hand at filet crochet for many years,
but I do better with yarn than thin thread, so I really enjoyed
the lovely pieces shared by
S.J.@ Homemaker on a Dime
Marcy @ Antique Chase
scored some fantastic vintage goodies at some of the first
yard sales of the season.
4 the Love of Wood
created this fantastic subway style British dresser.
Cindy @ Oakview Cottage
gave some fresh paint to an old suitcase for a fresh, new look that still retains its vintage style.
If you were featured today,
feel free to grab the
"I Was Featured" button on my sidebar!
You'll also be pinned on the
Knick of Time Tuesday Pinterest board.
Please, do the
following before linking up:
1. Follow Knick of Time
2. Please only link up your
vintage-style
treasures.
No food, giveaways, link parties or sales links or items that aren't vintage-style.
Those links will be deleted.
3. Post a link back within your post,
so others can join the party.
Only those who link back will be featured.
Prepare to be Inspired!