Before we know it, Easter
will be here, so today I'm
featuring antique ads and postcards
that you can print & enjoy.
This advertisement for Swift's Premium Ham
came from a 1908 McClure's magazine.
I have another old postcard that is very old and tattered,
but the typography is lovely, so I've cropped out just
that part for you.
Another sweet little postcard with a baby chick on it.
To see all the past graphics I've posted, click on the tab at the top of the page called, "Antique Graphics to Print" to view them all.
On an exciting note, I hope you are gearing up for
That's the Ticket Blog Hop & Giveaways!
Whatever you link up at the blog hop will show up on 4 blogs and we have some wonderful prizes lined up for the party as well, so I hope to see you there.
I'd love it if you'd take a moment to add this button to your sidebar and help spread the word about it. You'll receive an entry into my giveaway for doing so! Just grab the code on my sidebar to add it to yours.
THANK YOU!!!!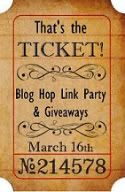 Shop Knick of Time - 10% Discount Code 10SPECIAL
You Can Often Find Me at These Parties: