Welcome back to
Wow, I can't believe
20
weeks
have gone by since the first party!
Thanks to each one of you
who come to share your
vintage-style
with us!
Before we get started with today's party,
remember to swing over HERE,
to enter
The Porcelain Rose GIVEAWAY
I'm hosting! Liz is gifting
one lucky follower with
their choice of 3 sets of handmade gift tags
that are SO lovely!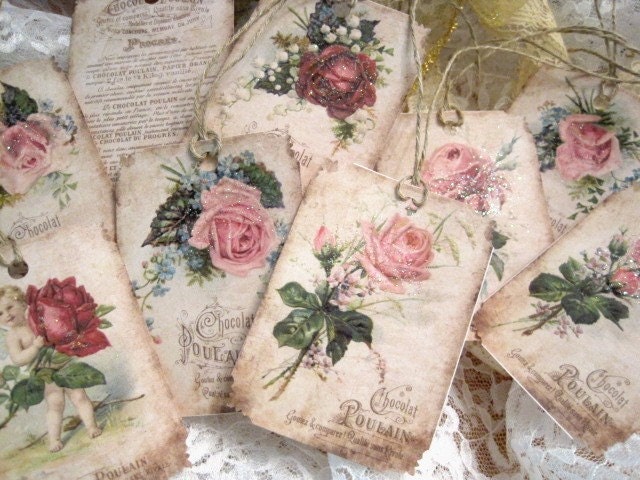 Here's what tickled my fancy
from last week's party!
My husband and I bought a new
travel trailer last week, so when I saw
this handmade, crocheted rug (and the cute dog),
shared by Karen @
The Vintage Bag Lady
then saw it was made for this trailer...
well, heck - I'm inspired!
I knew I wanted to "remodel" our trailer,
but now I'm dying to start the project!
CREATIVE!
Bliss Ranch
shared these
adorable letter blocks she
created from things she had around the house.
CUTE!
Little Vintage Cottage
redesigned some old cigar boxes
with vintage paper and some other bits and pieces.
LOVE!
Paula @
Ivy & Elephants
always fascinates me with
the historical background she provides
in her posts.
Go visit to learn something new today!
FASCINATING!
I struggled with a little "button envy"
when I saw these vintage heart-shaped
buttons, on their original card,
shared by Audrey @
Elegant Economies.
She attached them to some fabric and
framed them, which I think is a wonderful idea!
SWEET!
If you were featured today,
feel free to grab the
"I Was Featured" button on my sidebar!
Now on to this week's party!!!
SHARE AS MUCH
VINTAGE-STYLE
GOODNESS
AS YOU WANT!!!
Won't You Join Us This Week?
1. Please become a friend & follower of Knick of Time
You must be a follower to be featured!
2. Please only link up your
vintage-style
treasures.
No food, giveaways or sales links or items that aren't vintage-style.
Those links will be deleted.
3. Please post a link back so others can join the party.
Only those who link back will be featured.
I appreciate each and every one
of you that stops by each week to share
a little of your world and creativity
with the rest of us.
Blessings,