I've been showing you some antique portraits on
Antique Graphics Wednesday
, but last night I bought what may be my favorite "antique" portrait.
It's ME...Victorian style!
I chauffeured my daughter down to St. Charles, MO so she could attend Winter Jam (a Christian concert),
which meant I had almost 5 hours to myself. The first place I headed was downtown historic Main Street.
Even if you don't have a penny to spend, this 13-block street of shops on an old brick street is the perfect
place to go strolling. Totally charming!!!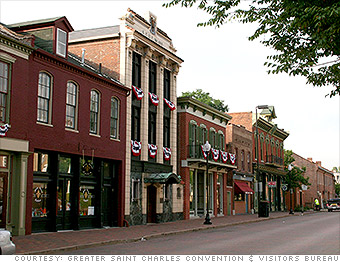 I ventured into a few shops, before coming upon
The Tintypery Old Time Photography
. I had some birthday money to spend and though I usually spend gift money on very practical things, like new towels or socks, I decided to do something totally out of character by getting "in character."
I had a great time selecting my clothing and props and the gal who shot my photos was so pleasant and made it a really enjoyable time.
Now I have my own "antique" portrait of me!
It was fun to do something totally out-of-the-ordinary!